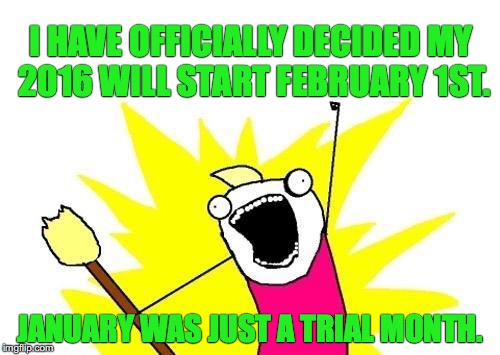 ​Oh, January, I had such hopes for you. Goals to get organized, plans to get motivated. Together we were going to strike fear in the clutter of my life. We were going to conquer revisions. We were going to blaze through the first third of a new manuscript.
We were going to be awesome!
Now that we're staring at the wiggly end of the month … we weren't so awesome.
Sadly, I'm no stranger to this phenomenon. See, my problem is creating plans and goals in a vacuum. My to-do lists are comically complicated. Yesterday's had 35 things. Which wouldn't have been as big of a problem if they were all things like "put dishes in the dishwasher," "finish laundry," "water plants." Those were on my list. But so was "get through 50 pages of revisions" (child home, not much quiet time to focus on writing), "write blog post" (inspiration for the blog disappeared somewhere between "I'm hungry, can we go out for breakfast" and the cat vomiting at my feet), "help child with book summary" (which also means read said book).
How many things did I check off the list? 5 I think.
That's pretty much the way this whole month has been.
This is where I usually pull out the guilt-o-meter then hurl myself down the rabbit hole of emotional flogging for allowing an entire month to pass me by without conquering goals. And yes, I started wedging myself into that hole this morning.
Sadly, I'm more Winnie-the-Pooh than Alice in Wonderland these days (but that's another blog post).
Luckily, I started reading emails before I was totally wedged and came across this …
(
thanks, Christa Allan, for the virtual assist out of the rabbit hole
)
Okay, February … let's do it!